If you are using Windows 7, you have probably noticed that it doesn't have a Quick Launch Bar set on default, as opposite to the previous versions of Windows. Some people consider this as a fault, and some don't. If you would like to have the old Quick Launch Bar back, here are the steps that have to be followed.
First of all, go to the Taskbar and on any free space on it, click with the right button of the mouse. Next, go to Toolbars with the mouse and wait until an additional menu appears, and click on New Toolbar.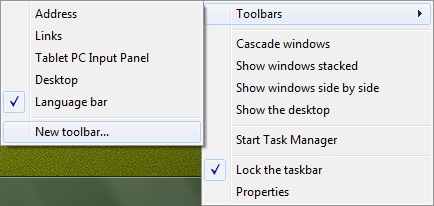 A small window will appear giving you the chance to choose a folder that you want to be displayed on the new toolbar. In the Folder text box paste the fallowing text:
Code:
%SystemDrive%\Users\%username%\AppData\Roaming\Microsoft\Internet Explorer\Quick Launch

Now click on Select Folder. The Quick Launch Bar should now be displayed on the Taskbar. You can unlock the Taskbar in order to move the Quick Launch Bar to your desired position, or you could just leave it as it is.