There might be numerous reasons behind your decision of blocking a web site. And there are many ways to block a web site and most of the people are now aware of most of the tricks which leaves no meaning behind blocking a web site. Below is one of a solid way to restrict the access to some web sites:
METHOD 1:
1. Navigate to C drive >> WINDOWS >> System 32 >> Drivers >> etc. Now, find a file name "hosts" and open that file in a Notepad.
2. In that notepad file named "hosts", try to locate "127.0.0.1 localhost" and add the details of blocked website in that particular notepad. It should look like this, "127.0.0.1
Example Web Page
"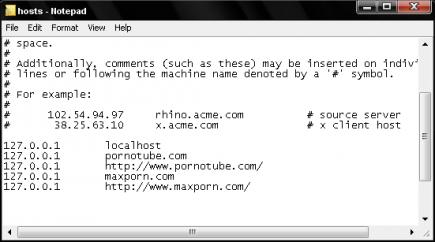 3. Now, save the file and you can check that all the mentioned websites are blocked.
METHOD 2:
1. First, open the Internet Explorer and Click on "Tools" tab on the MENU.
2. Now, click on "Internet Options".
3. Now you need to choose the "Privacy" tab in the window that opens.
4. Now click on the "Sites" button. And enter the web site address of all the sites one by one that you want to block inside the "Address of website" field and click on "Block" Button.
5. Finally you can restart your IE and check that all the entered web sites cannot be accessed.