How to Restore Windows 7 With Its Default Settings In Start Menu

By dwarkarao


11-11-2009
You must have tried your hands on number of tricks and tweaks on your computer powered by Windows 7. But there is no guarantee that you are comfortable with all the tricks that you have tried. So this is a tip which will help you to restore the default settings of the start menu of Windows 7.
Below are the steps:
1. Right click on the Taskbar and click on the options labeled as PROPERTIES.
2. Now, it will show the window titled as TASKBAR AND START MENU PROPERTIES. Here, click on the START MENU tab and click on CUSTOMIZE button.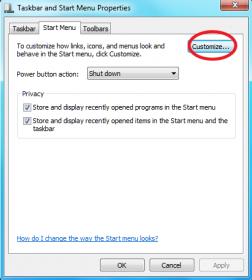 3. Now, it will open up the new window labeled as CUSTOMIZE START MENU.
4. Finally in this displayed window, click on the USE DEFAULT SETTINGS button which will restore back all the settings of the start menu of Windows 7.