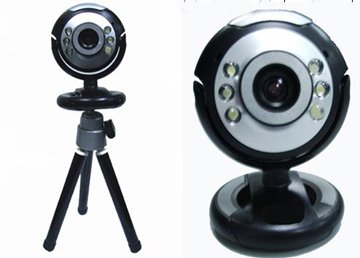 With the increase of bandwidth availability and unlimited internet usage facilities by
various service providers, more and more users are preferring video chats compared to
text or voice chat. Webcam is the key device which enables you to make a video chat
and share your precious moments on portals like Gtalk, Skype, Yahoo messenger etc.
In early days, webcams were bulky and of lesser clarity. With the advent of new
technologies, built in webcams and table top webcams with higher resolution and many
other interesting features embedded, are replacing the older devices.
Video chat enables you to meet clients and track projects via video conferences at
work. On the personal front, distances are erased and more rapport is built with family
and friends by sharing emotions and important occasions.
Buying a webcam is not the same as buying a keypad or a mouse.
Listed below are the points which will guide you to choose the right webcam suitable for your PC and internet bandwidth
• Resolution (clarity) : The standard resolution recommended for all PCs is
320x240. But there are webcams with higher resolutions available which can go
up to 640×480 and 1280x480.
•
Frame Rate:
This depends on the bandwidth/speed of your Internet connection.,
1- For a broadband internet connection of 256kbps/512kbps, it can transmit
30 frames/second. Your internet speed might become a hindrance if
bandwidth does not support higher frame rate even if your webcam can
capture.
2- If your modem is on a dial-up internet connection, it cannot transmit more
than 15 frames per second.
•
PC age and speed: Older computers are not capable of processing images
faster even though the webcam drivers and software are installed. Similarly
your PC should have a minimum of 512MB RAM for clear capture. So, it is
recommended to upgrade your PCs to enjoy video chats without blurred images
•
Lens type:
Webcams come with plastic and glass lenses. Glass lenses provide
clear images compared to plastic lenses, but come with a higher price. Make
sure, what lens you are buying since this will not be listed in the general product
specifications.
•
Night vision:
This specification depends on your personal requirement - whether
you are working with dim lights or a well-lit place. High-end Webcams support
night vision feature which enable you to have video chats even with minimal or
no lights.
•
Auto Focus and Microphone
: Most of the webcams come with built-in
microphone and softwares which enable auto focus of lens (focusing on the face
of a person). This avoids manual setting of focus and zoom.You can also avoid
using headphones for audio transmissions.
•
You can also look for webcam stand options to mount the webcam on your
desktop PC monitor or laptop.
Hope the above tips will enable you to choose a perfect Webcam.