Clean your System and Registry

By jlacosta
jL Acosta
03-23-2007
Download CleanUp!
Installing CleanUp!
Once you have finished downloading the file, double-click it and install. However, if you downloaded the "zip" file, you will need a program to unzip it, such as Winzip. Just check the box that says I agree with the above terms and conditions.
Click Next, and you will be asked to choose where you want to install it in. By default, it will be install at C:ProgramFiles\CleanUp!
Click Start and wait for it to finish installing.
Once it is done installing, you will be prompted with a screen saying that installation is complete. Check Run Installed Application and uncheck View ReadMe File. Click OK.
Configuring CleanUp!
Once the program starts running, a dialog box will appear and click on OPTIONS.
Drag the bar to Standard CleanUp! If you have valuable cookies (such as passwords, saved logins, etc), uncheck Delete Cookies or simply move the bar to Custom CleanUp!. Click OK.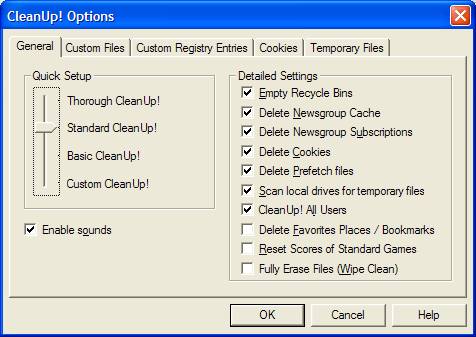 Run CleanUp!
It is recommended that you close all browsers because it may interfere with the clean up process.

Click the CleanUp! Button
When CleanUp! is done, a box will appear stating that it is finished and needs to logoff.
Adding CleanUp! to your Start Menu
To add the CleanUp! icon to your START Menu, simply follow the steps below.
Open Notepad.
Copy and past the following:

Windows Registry Editor Version 5.00

[HKEY_CLASSES_ROOT\Directory\shell\CleanUp]
@="CleanUp!"

[HKEY_CLASSES_ROOT\Directory\shell\CleanUp\command]
@="C:\\Program Files\\CleanUp!\\Cleanup.exe"

Save the file as cleanup.reg to your desktop.
Double click on the cleanup.reg file and click the Yes button when it asks if you want it merged into your registry.

Now you have the option to start CleanUp! from your START Menu.