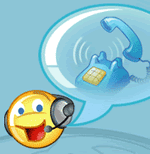 Yahoo! Inc. today introduced in the United States a new public beta of its instant messaging suite,
Yahoo! Messenger
with Voice, with enhanced PC-based calling capabilities.With Phone Out, consumers in the U.S. can now make low-cost Voice over Internet Protocol (VoIP) calls using their PC to call traditional or mobile phones in more than 180 countries. Calls within the U.S. and to more than 30 countries can be made for two cents a minute or less.
Additionally, U.S. consumers can receive calls on their PC from traditional and mobile phones for $2.99 a month or $29.90 a year with the Phone In feature. Phone In gives people a virtual presence in their city of choice, and wherever they travel, their phone number will follow them.