You might or might not have used separate programs which allow you to log into multiple accounts of Windows Live Messenger. But most of us are always skeptical about using a third party software, as they might end up in corrupting the important files.
Below is the method which will allow you to to log into multiple accounts of Windows Live Messenger simultaneously just by tweaking the registry. But this hack, works on Windows Live Messenger 2009 only. Below are the steps:
1. Click on the START button and then click on RUN.
2. Now in the filed provided, type "regedit" and press ENTER key.
3. The above step will open the Registry Editor. There navigate to HKEY_LOCAL_MACHINE>>SOFTWARE>>Microsoft>>Windows Live>>Messenger
4. Now on the right side of the pane, right click and choose New option and set the value as DWORD.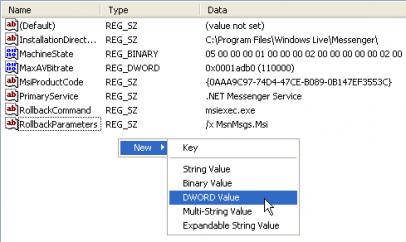 5. Now you need to simply rename the newly entered registry key as MultipleInstances.

6. Now. double click on the "MultipleInstances" registry key and you need assign the value data as 1.
That is it.
Launch two WLM by double clicking on the icon for two times. Now, you can login to more than one Windows Live Messenger accounts simultaneously.