There are number of ways to boost your speed on Internet. Some are based on settings on your computer, where as some are done using programs.
Internet Cell Boost Lite is a similar free program which lets you optimize internet connection. Internet Cell Boost works to 31 different connections including DSL, cable modem, GPRS, UMTS, HDSPA, WIMax, ISDN, wireless network, etc.
Features of Internet Cell Boost Lite
* It offers so many wonderful tools to optimize and speed up your Internet connection.
* Compatible on all types of internet connections.
* It is a complete freeware, you will be not charged with any kind of fees while downloading it or on using it. You can even upgrade it to few more features like Highspeed Surfer.
* Extremely easy to use. Just select your Internet connection type and it automatically does the rest.
How to use Internet Cell Boost lite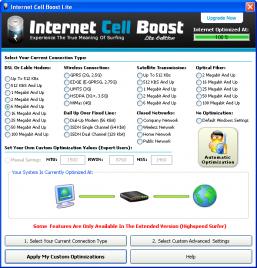 To optimize internet connections using this software is very easy and take a times not more than 5 minutes to optimize your internet connections. Here how:
* Install this software, once installation finishes run this software.
* Select your internet connections type then click "Apply My Custom Optimizations" button.
Click here to download
Internet Cell Boost lite