---
ATI unwraps first 1GB graphics card

1 Attachment(s)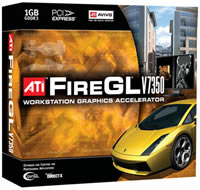 ATI unwrapped its latest pair of workstation-oriented graphics chips - including what it claims is the first ever board to support one gigabyte of graphics memory. The FireGL parts are also the first products of their class from ATI to support Shader Model 3.0.
The 1GB FireGL V7350 is accompanied by the V7300, a 512MB version. The GPUs are fabbed at 90nm and derive from ATI's Radeon X1000 series. As such they incorporate its Avivo image enhancement pipeline, including support for 40-bit and 64-bit RGB colour, and the latest Radeons' 512-bit ring memory bus architecture. Both boards provide 41.6GBps of memory bandwidth, ATI said, pointing to as memory clock speed of 325MHz (650MHz effective).
More at source ...
News Source:
reghardware.co.uk
All times are GMT -4. The time now is

10:19 AM

.

Copyright © 2005-2013 SysChat.com