Here's a quick guide that hopefully will answer all of your questions.

1. What is vBTubePRO ??
vBTubePRO is a content management system for media contents (MCMS)
vBTubePRO - Is The Video Integration Solution for Communities
vBTubePRO Details :
- Adding VideoLinks from sites such as...
YouTube, GoogleVideo, MyVideo, GameSpot, Koreus, Sapo, LiveLeak, GameTrailers, Veoh, Sevenload, Vidmax, Izlesene,
Vidiac, OnSmash, GodTube, Photobucket, Dailymotion, MySpace, BrightCove, Youku, LiveVideo, Expertvillage,
Redtube, PornoTube and the list goes on...
- NOTE: Generation of YouTube Thumbnails is automatic!!
- Part adding (for videos that are posted in Part1, Part 2 etc...)
- Comment, rate, report uploads/adds or forward them to a friend
- Favourite List for every user (Add to my Favs)
- Showing last searches from users
- Showing latest postings of vBTubePRO
- Showing Polls of the Forum
- Random selected media and last published Media boxes
...
I'll discuss those features that you'll be using the most as a user.

2. How to post a video properly in vBTubePRO?
First you'll have to go to the video site (example: YouTube).
Let's say you were browsing YouTube and you encounter a video that you wanted to share with the rest of the
community...how to do that?
Once you're on the video page as shown below, you'll need to copy the video link...
Which link? Check the screenshot below.
http://www.youtube.com/watch?v=Jr8n0ww3pio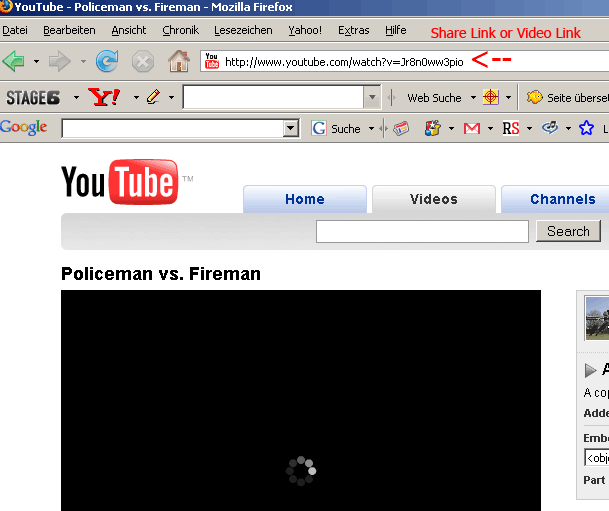 Once you have the code that is needed, lets go to vBTubePRO and post this vid there...
When you click on the vBTubePRO / Add Video you'll be directed to vBTubePRO's mainpage

Note: YouTube Links Thumbnails will generated automatic !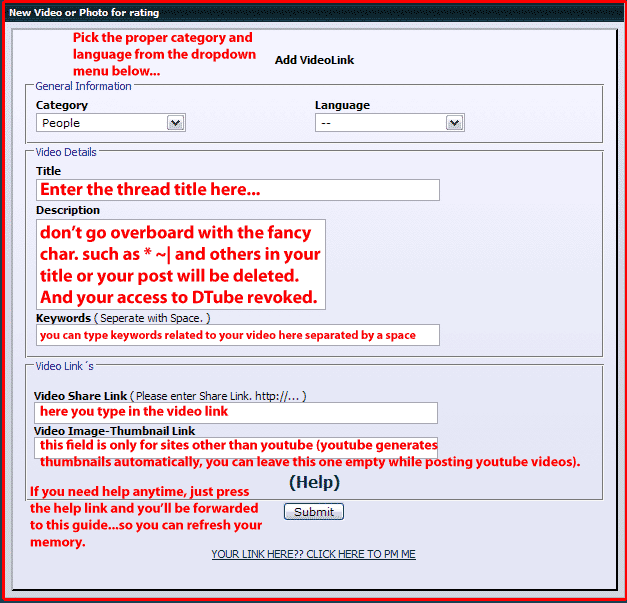 3. If not a YouTube Video : How can I get the thumbnail link?
A Thumbnail is a small preview Image of the Video.
If you want to watch a Video on Video sites, you usually click on the
small preview Image (Thumbnail).

How can i get the Thumbnail Link ?
Very easy. Just Right-Click on the preview image of the video site you
selected and then copy paste the URL of the Thumbnail.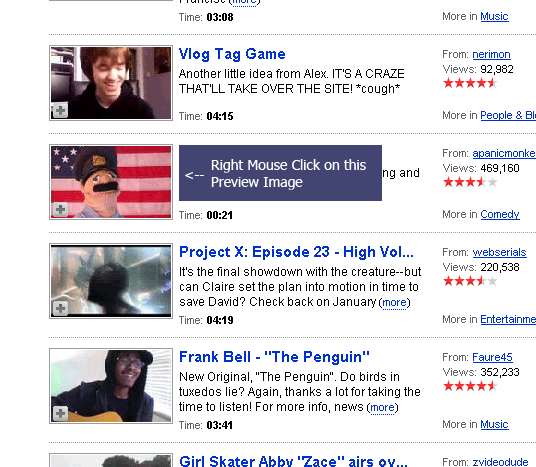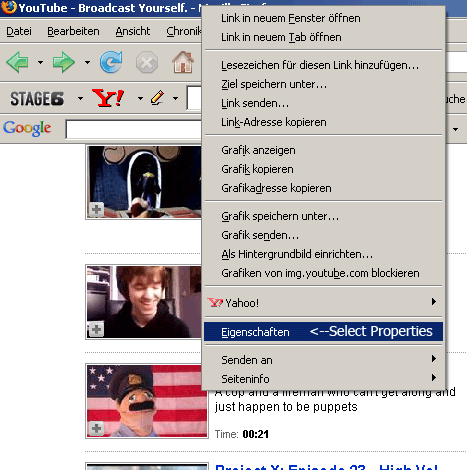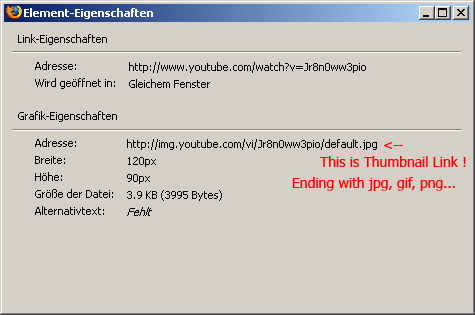 _______________________________________________________________

Adding Videos from other Video Sites:
Google Video, Metacafe, MyVideo .....
Add the share link from the adressline of your Browser.
The Thumbnail will not generated automatic.

You have to add it manually. (Right mouseclick on the Thumbnail at the Videosite).
If you don´t add a Thumbnail link no Preview Image will be shown on vbTubePRO. It is recommended to add it !

_______________________________________________________________
4. My Proper vBTubePRO Post
Now that we have all the info needed, let´s make a post. This is how a proper post would look like.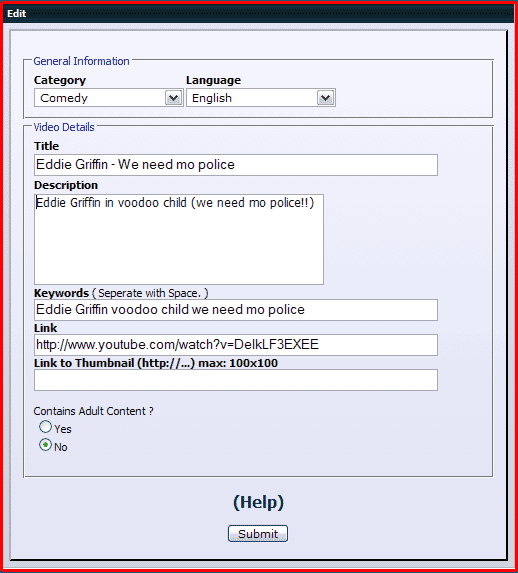 _______________________________________________________________
Photolinks :
You can add url from images/photos if you dont want to host the images on your own server. Maybe imageshack.us - Saves Performance.

1. Upload a photo to a imagehosting of your choice and paste the link to vbtube.
2. Upload a second photo for thumbnail (max.130x130) and paste the link to vbtubePRO Thumbnail Line.

Originalphoto : http://img146.imagessss.gs/img1d6/4250/st2007000555previewuf3.jpg
Thumbnail : http://img146.imagessss.gs/img1d6/4250/st2007000555previewuf3.th.jpg

vbTubePRO (c) 2007-2008 by www.vbtube.com